The Adventures of Erast Fandorin: The Turkish Gambit and The State Counsellor
2017
1 041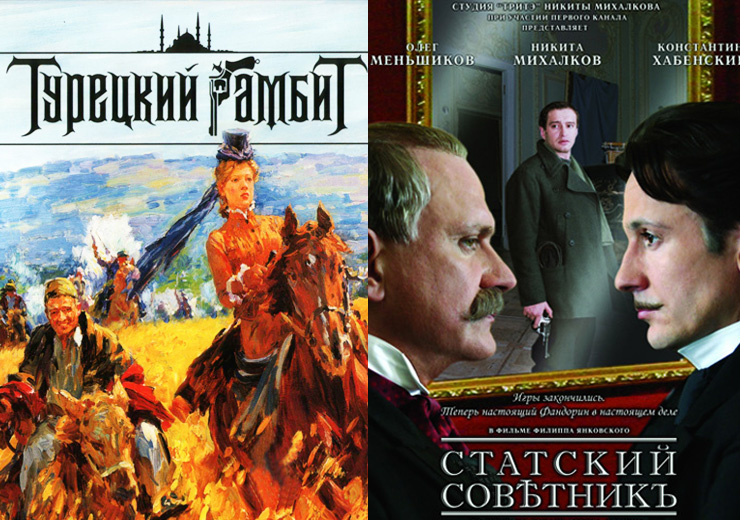 Erast Fandorin is the eponymous protagonist of a highly popular Russian Historical Detective Fiction series set in the 19th century. He starts off as a regular police clerk in Moscow in 1876 and eventually becomes a Great Detective of international renown, on one occasion employed even by the Tsar himself. Early in his career, he exiles himself to Japan, learns the ways of the ninjas, and returns even more badass than before.
The books were written by Boris Akunin (his real name is Grigory Shalvovich Chkhartishvili but it's too difficult to pronounce) and noted for their eloquent writing style, remarkable characters, intelligent mysteries, and countless references to Russian history and literature. Every book in the series belongs to a different subgenre of detective mystery (Government Conspiracy, Spy Drama, Professional Killer mystery, etc.). Akunin has also written several novels set in the present day and starring Fandorin's grandson Nicholas Fandorin.
Live-action adaptations of Fandorin novels include a Russian TV adaptation of The Winter Queen and Russian film adaptations of The Turkish Gambit and The State Counsellor.
You can watch or download The Turkish Gambit with ️English,️ Russian,️ Spanish,️ Turkish,️ Romanian subtitles:
https://sovietmoviesonline.com/adv…/301-tureckiy-gambit.html
You can watch or download The State Counsellor withEnglish,️ Russian,️ Romanian,️ Chinese subtitles:
https://sovietmoviesonline.com/a…/242-statskiy-sovetnik.html