Ru
1956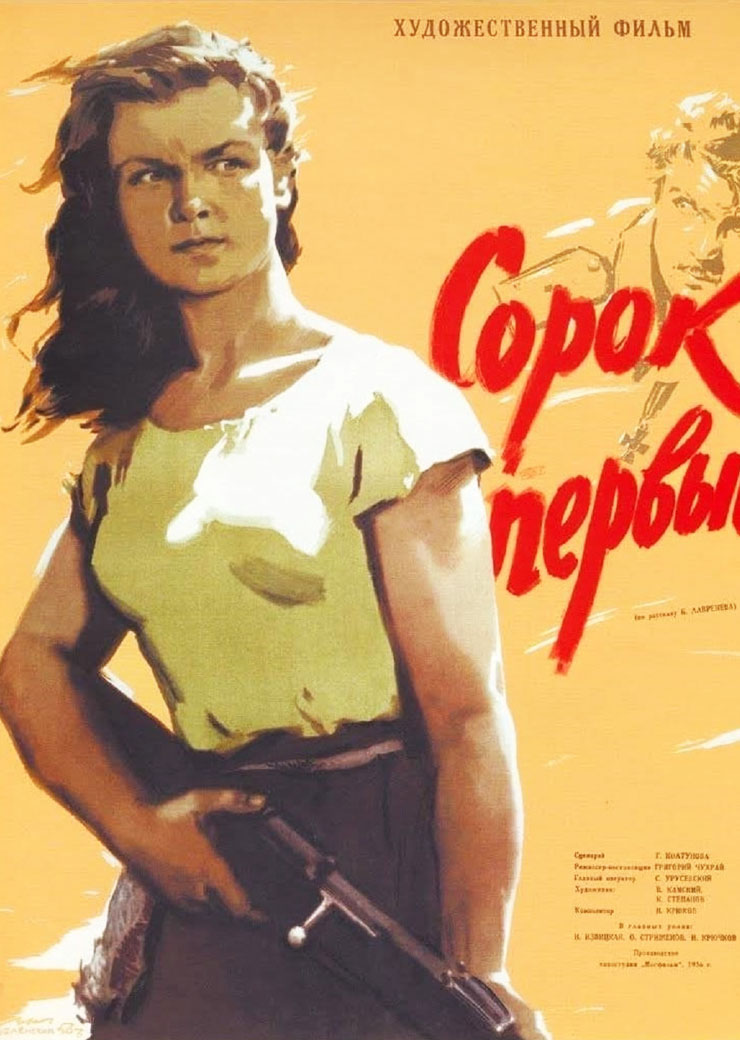 Soviet Movies
Drama
The Forty-First
The Forty-First
[ Сорок первый ]

The Forty-First

with English subtitles

in English (dubbing)

in English (dubbing) and with English subtitles

is a 1956 Soviet film based on the eponymous novel by Boris Lavrenyev. It was directed by Grigori Chukhrai.

In 1919, at the height of the Russian Civil War, the remnants of a Red Army battalion are fleeing across the Karakum Desert after being routed by the White Army. They include Maria, a sniper who has already taken the lives of thirty-eight enemy soldiers and who claims two more when the party runs into a camel caravan that is transporting a handful of White Army soldiers. The man who would have been Maria's forty-first victim, Lieutenant Govorukha, is taken prisoner because he has strategically important knowledge. When the camels are stolen, Maria's commander orders her to take Govorukha to their headquarters in Kazalinsk by crossing the Aral Sea. In a violent sea storm the boat sinks and Maria ends up being washed up on a remote island with her prisoner. Despite their profound ideological differences, the two enemies cannot help falling in love...
Watch online The Forty-First with english subtitles
Watch online The Forty-First in English
Please, support our project
Your support will help us to add new movies and maintain this website.
You do NOT need to have a PayPal account for this.
The Forty-First in English
The Forty-First with English subtitles
On SovietMoviesOnline.com you can watch The Forty-First with English subtitles online absolutely free. On our site contains the best Soviet drama movies in English.
All Soviet movies in English you can watch online on your smartphones (iOs or Android) and on tablets.