Ru
1961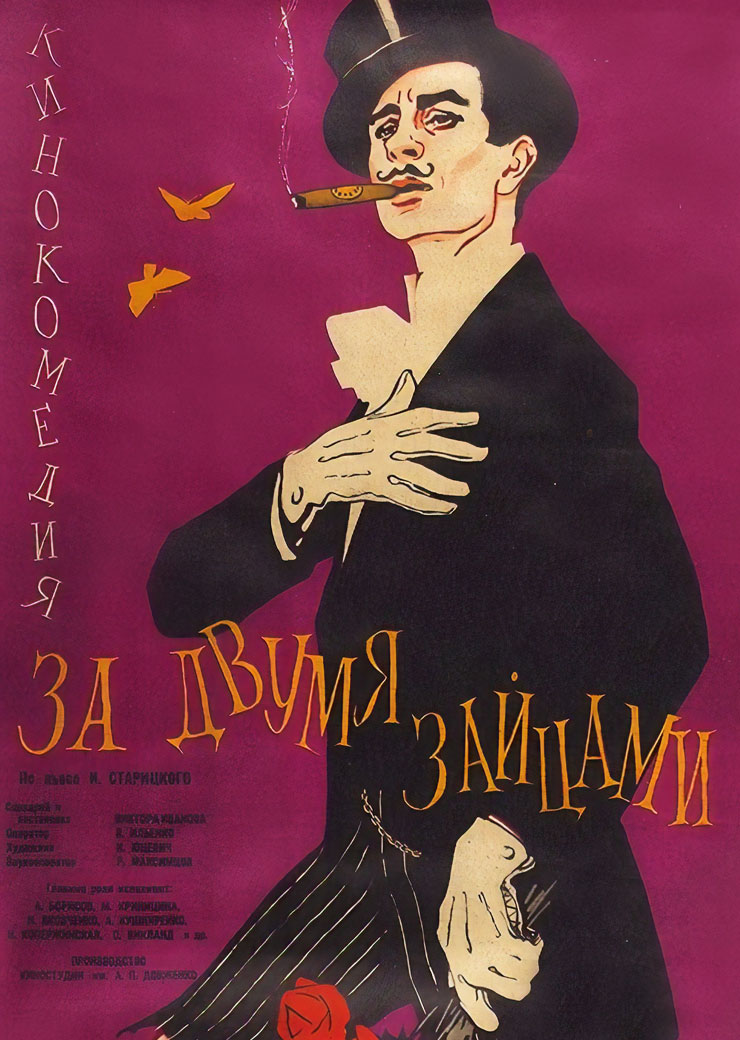 Soviet Movies
Comedies
Chasing Two Hares
Chasing Two Hares
[ За двумя зайцами ]

Chasing Two Hares

with English subtitles

in English (dubbing)

in English (dubbing) and with English subtitles

. In an Ukrainian town of Kiev, at the beginning of the 20th Century a young loser named Svirid Golokhvasty owned a barbershop, which was in a lamentable state, because most of his time the owner spent drinking, gambling, and chasing girls with his equally no good friends. After losing a really big sum of money and becoming a bankrupt, Golokhvasty decided to solve his financial problems by marrying an ugly but rich Pronya who falls for his "educated" speeches and snazzy outfits and use her money to pay his debts and to attract a beautiful and virtuous Galya (the short for Galina :)) who despises him and doesn't want to even look at him. Thus the chase for two hares begins, and as you may guess, it is more than difficult to chase two hares in the same time.

Oleg Borisov, one of the best Russian actors of his generation with the incredibly wide acting range is just superb in one of his earliest and rare comic roles. The movie that was made over forty years ago with the modest running time of 72 minutes is an excellent comedy. We watched it couple of days ago with the friends and were amazed how masterfully it was made and acted. All the jokes and quotes are still funny and sparkling after all these years.
Watch online Chasing Two Hares with english subtitles
Watch online Chasing Two Hares in English
Please, support our project
Your support will help us to add new movies and maintain this website.
You do NOT need to have a PayPal account for this.
Chasing Two Hares in English
Chasing Two Hares with English subtitles
On SovietMoviesOnline.com you can watch Chasing Two Hares with English subtitles online absolutely free. On our site contains the best Soviet comedies in English.
All Soviet movies in English you can watch online on your smartphones (iOs or Android) and on tablets.